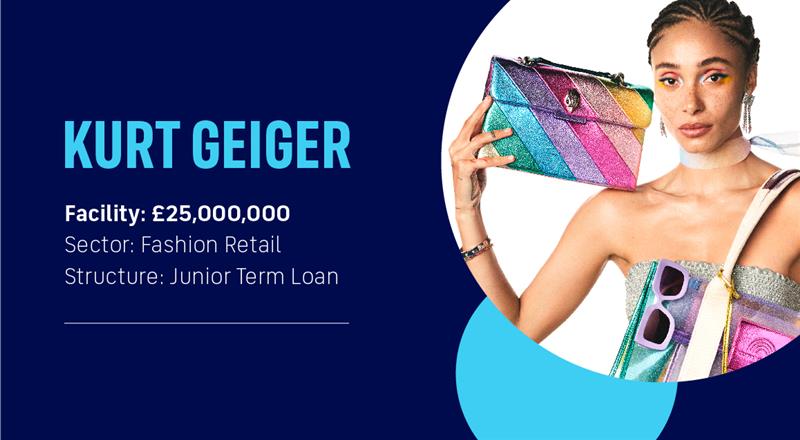 Kurt Geiger Sets Sights On International Expansion With Support From Blazehill Capital
Kurt Geiger, the premium footwear and accessories brand owned by international private equity firm Cinven, has agreed a new funding package to refinance its existing debt and support its international growth strategy.
The combined facilities were provided by Blazehill Capital, a UK private credit fund offering transformational capital, and Wells Fargo Capital Finance UK, a part of Wells Fargo & Company.
Founded in 1963, Kurt Geiger opened its first store on London's Bond Street and has been headquartered in the UK capital ever since. The company now has over 70 stores as well as over 100 concessions in department stores, including Harrods and Selfridges. The retailer has also expanded beyond its signature footwear offering into handbags, jewellery and sunglasses, as well as other accessories.
More recently, Kurt Geiger has been increasing its presence overseas and currently has wholesale partnerships with leading retailers in the US, including Dillard's and Nordstrom. The company is now looking to bolster its international arm with the new Wells Fargo Capital Finance UK and Blazehill Capital funding package.
Dale Christilaw, CFO, Kurt Geiger, said: "We found working with the Blazehill Capital and Wells Fargo teams seamless and easy. The combined facilities will provide significant flexibility to accelerate our expansion across North America and Europe. Big thanks to all involved."
Jake Hyman, Head of Originations, Blazehill Capital, said: "Unlocking additional liquidity for such an established business is a great example of what we're trying to achieve at Blazehill Capital. Kurt Geiger's continued success is testament to an impressive management team with a dynamic approach to growth, and with this new funding package the company can now continue to expand its global footprint."
Tayyib Chowdhry, Originations Director, Wells Fargo Capital Finance UK, added: "Wells Fargo has extensive experience financing retail and fashion brands, and we continuously challenge ourselves to deliver differentiated debt solutions for our clients. We're delighted to have provided an upsized credit facility to enable the team at Kurt Geiger to accelerate an already compelling growth trajectory, globally. We're especially pleased to have structured a flexible financing solution at this exciting period when the business has such positive and sustained momentum."