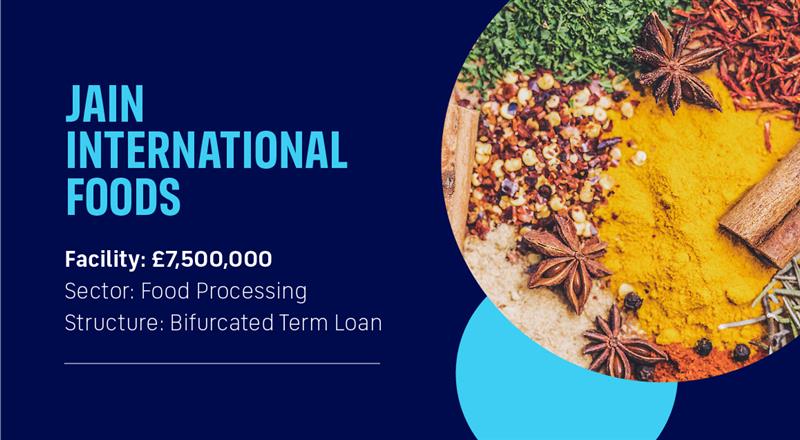 Jain International Foods expanding innovation capabilities with support from Blazehill Capital
International food ingredients supplier, Jain International Foods (the "Company"), trading in the UK as Sleaford Quality Foods, has secured a $55 million cross-border asset-based lending (ABL) and cashflow facility from private debt fund Blazehill Capital, alongside Wells Fargo USA and KBC. Proceeds from the financing will be used to refinance existing indebtedness and provide additional liquidity to support Jain International Food's working capital, enhance its food innovation capabilities, and drive cost efficiencies.
Jain International Foods is a subsidiary of Jain Farm Fresh Foods Limited, a leading processor of fruits, vegetables and spices. It consists of three entities, Jain Farm Fresh Food Inc, Sleaford Quality Foods Limited, and Innovafood N.V.. With an expected consolidated revenue of approximately $160 million in 2023, Jain International Foods is well-positioned for growth having shown resilient performance through the pandemic.
Lincolnshire-headquartered Sleaford Quality Foods, founded in 1968, was acquired by Jain Farm Fresh Foods in 2010. It specialises in importing, processing, and distributing dehydrated foods and spices, offering over 650 dried and dehydrated food products, including its own Chef William and Our Earth brands. California-based Jain Farm Fresh Foods Inc. specialises in the processing and distribution of dehydrated foods, including bell pepper, tomatoes, and onions, to large global customers.
Blazehill Capital and Wells Fargo USA structured a hybrid ABL and cashflow facility which can be drawn in the UK and USA to maximise flexibility. The Company was advised by Olympia Capital Partners (led by Nedim Music and Peter Lizza) and Hogan Lovells. Blazehill Capital was advised by a cross-border team from Dentons led by Simon Prendergast. Legal counsel for Wells Fargo was served by Bill Starshak, Prisca Kim, and Randall Klein from Goldberg Kohn.
To strengthen its position in the food industry, the Company has already implemented operational efficiencies and is committed to exploring expansion opportunities in new food categories and branded product lines.
The UK frozen food market is projected to reach £6.1 billion by 2026, underscoring a favourable market environment characterised by increased demand for long shelf-life food products, including vegetables. Similarly strong industry tailwinds in the United States provide the Company with multiple opportunities for global growth and expansion.
Paul Lawlor, CFO of Jain International Foods Ltd, said: "This new facility represents a pivotal moment in our business journey. As demand for long shelf-life food products grows, we're positioned to capitalise on burgeoning market opportunities and further enhance our industry leadership. The Blazehill Capital and Wells Fargo teams worked closely with us to understand our unique needs and establish a facility tailored to our ambitions."
Adam Sookia, Head of Investments at Blazehill Capital, said: " We are extremely proud to be working with Jain; a global business with a strong local presence in Lincolnshire, Jain has demonstrated its resilience and best in class governance over recent years. We look forward to seeing the Company through its next chapter, setting new standards of food innovation and quality whilst working with partners to ease inflationary pressures on consumers."