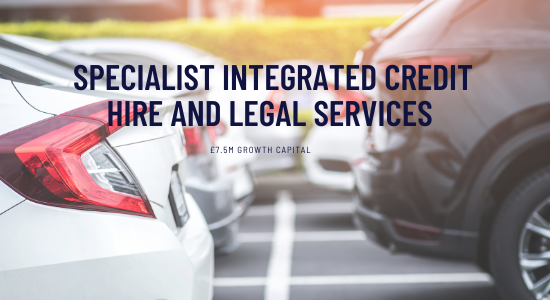 £7.5m Growth Capital provided to specialist credit hire and legal services provider
Blazehill Capital provides additional growth funding to specialist credit hire and legal services provider
Funding Facility: £7.5m                                                                                                                                                              Sector: Credit Hire / Legal Services                                                                                                                                    Structure: Non-amortising term loan structured on a FILO basis
Anexo Group PLC is a specialist integrated credit hire and legal services provider acting for the Non-Fault Motorists, providing replacement vehicles, and associated legal services to impecunious customers who have been involved in a non-fault accident.
Blazehill provided an additional tranche of growth capital to support Anexo's ongoing expansion, investment in new vehicles and recruitment of further legal claim case handlers. Working in conjunction with the senior debt provider, Blazehill's facilities enhance the existing structure and allows the business to deliver on its financial plan.
The transaction demonstrates how Blazehill Capital can unlock further liquidity for businesses, utilising the principles of Asset Based Lending but adopting a commercial and pragmatic approach, whilst working alongside other lenders.
Mark Bringloe, CFO, stated:  'We have recently been in negotiations with our existing finance providers for an increase in our current debt facilities. Bringing Blazehill Capital into the capital structure allows us to take advantage of the opportunities presented in both the credit hire and legal services divisions. Blazehill's non-amortising term loan supplements our current facilities neatly, maximises available liquidity and will support our next stage of growth.'
Tom Weedall, Managing Director, Blazehill Capital, added: "This transaction further showcases Blazehill Capital's ability to work across the capital structure and deliver a debt solution that complements the existing Secure Trust Bank facilities, providing the borrower with increased liquidity and growth capital. We are looking forward to working with Alan, Mark, and the rest of the team.
Blazehill Capital were advised by Brown Jacobson (Paul Hill, Melanie Hilton, Beth Nixon) and Kroll (Mike Lennon, James Gillibrand).