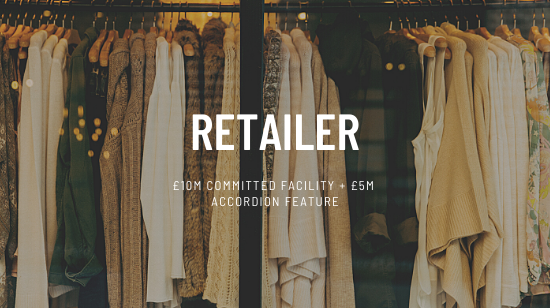 Retailer needing financial support to execute turnaround and restructure
Our skill set and experience mean that we can get to grips with complex situations quickly and can assess and execute on deals with speed and conviction.
Situation – Retailer executing an operational turnaround
The retailer had enjoyed many years of growth as a multi-channel operator and continued an aggressive growth strategy, increasing the store footprint both domestically and abroad.
When UK retail headwinds started to take their effect and were compounded by the Coronavirus pandemic, the company took the decision to restructure the business significantly, including a CVA to reduce the store estate and focus on its digital offering.
To support the turnaround, the management were looking to raise up to £10m for working capital, and whilst financial projections showed the business to be cash generative going forward, they could not raise the funding from any mainstream lenders.
Solution – £10m committed facility + £5m accordion feature
With short reporting lines, the Blazehill team was able to move at speed from initial offer to funding, completing the entire process from origination to close in under 3 weeks.
Our deep retail experience meant that we were able to quickly understand the situation. This allowed us to structure a flexible solution that ultimately provided the client with appropriate funding in line with their seasonal working capital requirements and helped them on their path back to profitability.